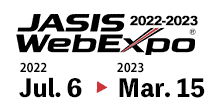 RSC Tokyo International Conference 2022
Cutting edge separation science
International Conference Session, JASIS Conference
The Royal Society of Chemistry (RSC) and JAPAN Analytical Instruments Manufacturers' Association (JAIMA) jointly organize the RSC-TIC(Royal Society of Chemistry-Tokyo International Conference).
In 2022, the Organizing Committee has decided to hold it as a Hybrid Event (in-person and web-based conference).
RSC-TIC 2022 focuses on "Cutting edge separation science" as the main topic. For the poster session, we welcome contributions from any area of analytical science and technology as in previous years. Please register through the " Registration Online/On-site Participation " button to the below to make use of the opportunity to join RSC-TIC 2022.
RSC-TIC Organizers
Hideaki Hisamoto (RSC Analyst Associate Editor, Osaka Metropolitan University)
Daniel Citterio (RSC Fellow, Keio University)
Outline
| | |
| --- | --- |
| Date | December 5-6, 2022 |
| Place | Kawasaki Life Science and Environment Research Center (LiSE), Kawasaki City, Kanagawa and Website (Hybrid Event) |
| Association | JAIMA, RSC |
Registration
Online / On-site Participation
The registration has now been closed.
Invited Lectures
8 internationally renowned lecturers from around the world.
The list of invited lecturers and detailed program will be announced later.
Flash Presentation & Poster Session
A poster session covering all areas of analytical sciences and technologies, including for example the development and application of analytical instruments, sample preparation methods and data analysis among others, will be held at the Kawasaki Life Science and Environment Research Center (LiSE) and on the Internet.
We welcome submissions from academic, public institutional and industrial researchers.
We also welcome ongoing projects, and proposals of collaboration.
Each poster presenter will have a short "Flash Presentation" before the session.
Web-based poster presenters will be asked to send a video of the flash presentation (mp4 file) in advance.

Schedule for Poster Presentation Application
Deadline to register for poster presentation:
September 30
October 14
Deadline for submitting poster abstract file:
October 7
October 14
Deadline for submitting flash presentation file:
November 18
Deadline for poster presentation registration and abstract submission has been extended.
The number of poster presentations on-site is limited. (40 posters)
SUBMISSION
The submission has now been closed.
As indicated on the website of the Ministry of Foreign Affairs of Japan, most entry limitations will be lifted from October 11. At the same time, visa exemption policies prior to the pandemic will be resumed. This means that nationals of countries with visa-free entry to Japan prior to the pandemic will no longer require a visa. However, all entrants will be required to provide either a valid COVID-19 vaccination certificate (3 doses) of vaccines on the Emergency Use List of World Health Organization (WHO) or a certificate of negative result of pre-departure COVID-19 test within 72 hours prior to departing from the original country/region.
Please see the following websites for further information.
Please note that the conference organizers cannot be held liable for the above information. In case of doubt, please contact the Japanese representation (embassy, consulate) in your country of residence.
There is no halal menu in the cafeteria at LiSE.
If you make a reservation in advance, it is possible to prepare a lunch box for vegetarians.
The lunch box will be on the same menu for two days.
Please make your reservation by November 19.
Poster Presentation Award
- RSC Analyst Best Presentation Awards (top 3 posters)
- Poster Presentation Award
JASIS 2022 / JASIS WebExpo® 2022-2023
JASIS 2022, the largest Japanese Exhibition of Analytical Instruments, will be held in Makuhari-Messe (International Exhibition Hall) between September 7-9, 2022. The details are described in the JASIS 2022 home page (https://www.jasis.jp/en/)
JASIS WebExpo® 2022-2023 is open from July 6, 2022 to March 15, 2023 (https://www.jasis.jp/en/webexpo/)
Contact information
Kenji Ito
JASIS 2022 Secretariat (located within the Japan Analytical Instruments Manufacturers' Association)
TEL: +81-3-3292-0642 E-mail: webmaster@jaima.or.jp