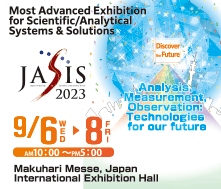 RSC Tokyo International Conference 2023
Data Processing and the Use of Smartphones for Analytical Chemistry
International Conference Session, JASIS Conference
The Royal Society of Chemistry (RSC) and JAPAN Analytical Instruments Manufacturers' Association (JAIMA) jointly organize the RSC-TIC(Royal Society of Chemistry-Tokyo International Conference)during JASIS 2023, one of the biggest exhibitions of analytical and scientific instruments in Asia.
In 2023, the Organizing Committee has decided to hold it as an On-site Event (in-person conference).
The RSC-TIC 2023 focuses on "Data Processing and the Use of Smartphones for Analytical Chemistry" as the main topic.
For poster presentations, however, we welcome contributions from any area of analytical sciences and technologies as in previous years.
RSC-TIC Organizers
Hideaki Hisamoto (RSC Analyst Associate Editor, Osaka Metropolitan University)
Daniel Citterio (RSC Fellow, Keio University)
Outline
| | |
| --- | --- |
| Date | September 7-8, 2023 |
| Venue | Makuhari Messe, Chiba |
| Association | JAIMA, RSC |
The "RSC Tokyo International Conference 2023 (RSC-TIC)" will be held as part of "JASIS 2023 (Japan Analytical and Scientific Instruments Show)". Please ensure that you have pre-registered for "JASIS 2023" on the website before visiting RSC-TIC.
RSC-TIC and JASIS are free to attend.
Invited Lectures
The full list of invited lecturers and detailed program will be announced upon confirmation.
Confirmed Invited Speakers
Flash Presentation & Poster Session
A poster session covering topics such as development and application of analytical instruments, including sample preparation methods and data analysis, will be held in Makuhari-Messe.
We welcome submissions from academic, public institutional and industrial researchers.
We also welcome ongoing projects and proposals of collaboration.
Each poster presenter will give a short "Flash Presentation" before the session.

Important schedule for application for poster presentation
Deadline to register for poster presentation:
(Deadline extended)
July 31
August 07
Deadline for submitting poster abstract file:
(Deadline extended)
July 31
August 07
Deadline for submitting flash presentation file:
August 25
Poster Presentation Award
- RSC Best Presentation Award ("Analyst" Poster Prize) (top 3 posters)
- Poster Presentation Award
JASIS 2023
JASIS 2023, the largest Japanese Exhibition on Analytical Instruments, will be held in Makuhari-Messe (International Exhibition Hall) between September7-8. We hope the presenters and attendees to enjoy both scientific and technology discussion on the session, and catching up the cutting-edge analytical technology on the exhibition. (Admission Free)
Venue (Makuhari Messe)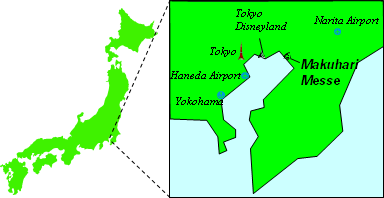 Direct airport limousine bus services
50 min from Narita Airport,
60 min from Haneda Airport

Train (JR Keiyo Line)
35 min from Tokyo Station
International Conference Hall 2F
International Conference Room
Contact information
Kenji Ito
JASIS 2023 Secretariat (located within the Japan Analytical Instruments Manufacturers' Association)
TEL: +81-3-3292-0642 E-mail: webmaster@jaima.or.jp