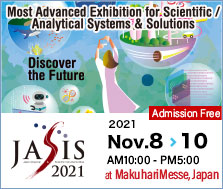 RSC Tokyo International Conference 2021
Spectroscopic imaging and sensing
International Conference Session, JASIS Conference
The Royal Society of Chemistry (RSC) and JAPAN Analytical Instruments Manufacturers' Association (JAIMA) have jointly organized the RSC-TIC(Royal Society of Chemistry-Tokyo International Conference)since 2011.
In 2021, the Organizing Committee has decided to hold it on a Web conference basis, as the health and safety of all conference participants are of highest priority.
Focuing theme for the lecture sessions this year is "Spectroscopic imaging and sensing".
For the poster session, we are welcoming contributions from any area of analytical sciences and technologies as in previous years.
Please book through the "On-line Conference" button left or below, to make use of the chance to join the RSC-TIC 2021.
RSC-TIC Organizers
Takehiko Kitamori (RSC (Analyst Associate Editor), The University of Tokyo/National Tsing Hua University)
Daniel Citterio (RSC(Fellow), Keio University)
Outline
| | |
| --- | --- |
| Date | December 6-7, 2021 |
| Time | 15:00-20:00 JST (UTC+0900) |
| Association | JAIMA, RSC |
Poster Session
We invite you to submit an abstract for a poster presentation at the conference. We welcome submissions from academic, public institutional and industrial researchers. We also welcome ongoing projects, and proposals of colloboration. All poster abstract will be reviewed by the organisation committee. Please do understand that while the event is free to attend, we have limited numbers of slots available for posters and may not be able to accept all submissions.
You will be able to submit the poster via Poster abstract submission which is now open . Please be aware the maximum length for title/abstract is 60/500 words. 
Deadline for submission is 29 October 2021. 
JASIS 2021 / JASIS WebExpo® 2021-2022
JASIS 2021, the largest Japanese Exhibition on Analytical Instruments, will be held in Makuhari-Messe (International Exhibition Hall) between November 8-10, 2021. The details are described in the JASIS 2021 home page (https://www.jasis.jp/en/)
JASIS WebExpo® 2021-2022 is open from September 8, 2021 to March 15, 2022 (https://www.jasis.jp/en/webexpo/)
Contact information
Kenji Ito
JASIS 2021 Secretariat (located within the Japan Analytical Instruments Manufacturers' Association)
TEL: +81-3-3292-0642 E-mail: webmaster@jaima.or.jp