International Exchange Programs
Globalization of JAIMA / JASIS
In order to promote globalization of JAIMA and JASIS (Japan Analytical and Scientific Instruments Show), JAIMA has been strengthening cooperation with overseas organizations, disseminating information to enhance its international presence, promoting JASIS more globalized as a hub exhibition in Asia, and conducting market research for analytical instruments in overseas markets.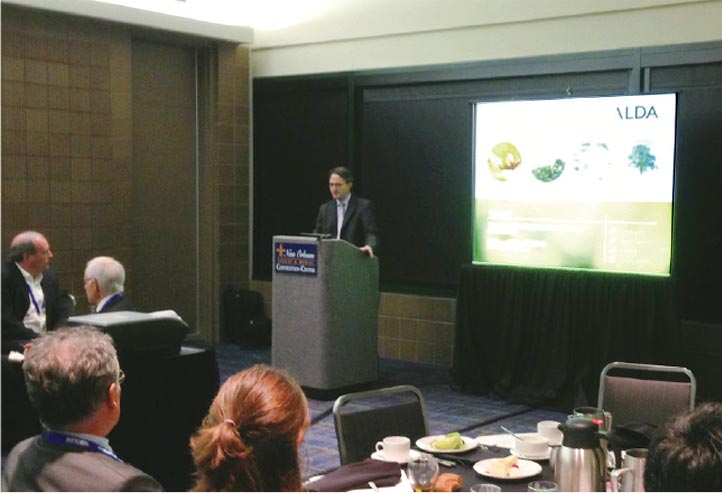 Technical forums in cooperation with Asian countries
From 2005 to 2012, JAIMA held the Asian Round Table Meeting with cooperative organizations related to analytical instruments from Asia (China: CAIA/CIMA, Korea: KSIIC/KRISS, Taiwan: TEEMA/BPIPO, Singapore: SeparationScience, Vietnam: VINALAB, India: IAIA/UBM, Indonesia/Malaysia: ECMI, Thailand: TISTR, etc.) for the purpose of information exchange and relationship development among the organizations. In cooperation with these Asian analytical organizations, the Asian Technical Forum and China Forum have been held every year since 2012 at JASIS in Japan, and the following seminars and forums have been held overseas.
The China-Japan Scientific Instrument Development Forum at the BCEIA in China, in cooperation with the China Association for Analytical Chemistry, introduces the latest state of analytical chemistry and analytical instrument technology in Japan, and has been well received by Chinese audiences. In cooperation with ASTAR, the Singapore Science and Technology Agency, the Singapore Advanced Diagnostic Forum was held with JAIMA's life science innovation initiatives, and highlighted Japan's advanced life science instrumental analysis technology.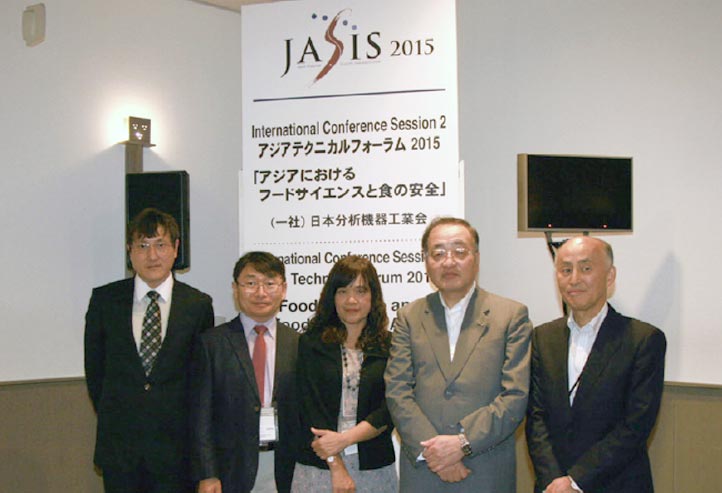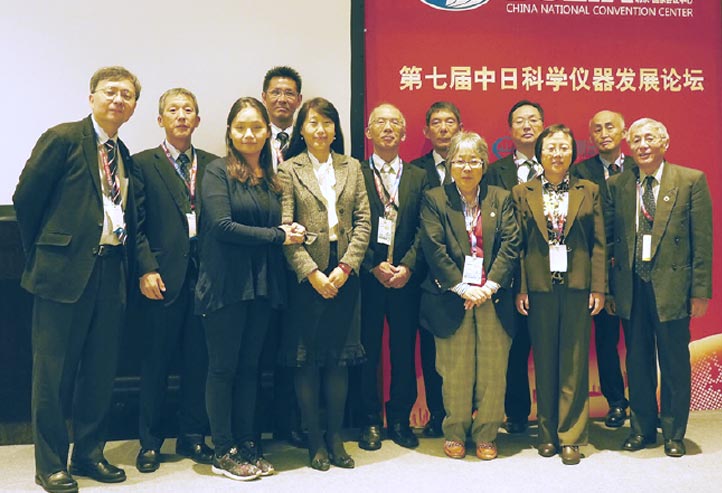 JAIMA booths at overseas exhibitions
In cooperation with overseas organizations, JAIMA participates in overseas exhibitions shown in the table below to invite visitors to JASIS, to introduce JAIMA, and to hold seminars. In meetings with exhibition organizers, we develop relationships to realize mutual participation to the exhibitions and seminars by promoting cooperation and exchange information.
In analytica China (2014, 2018), ARABLAB in Dubai (2018), and analytica Anacon India (2017, 2019), we made efforts to enhance our presence by exhibiting in the pavilions together with JAIMA member companies.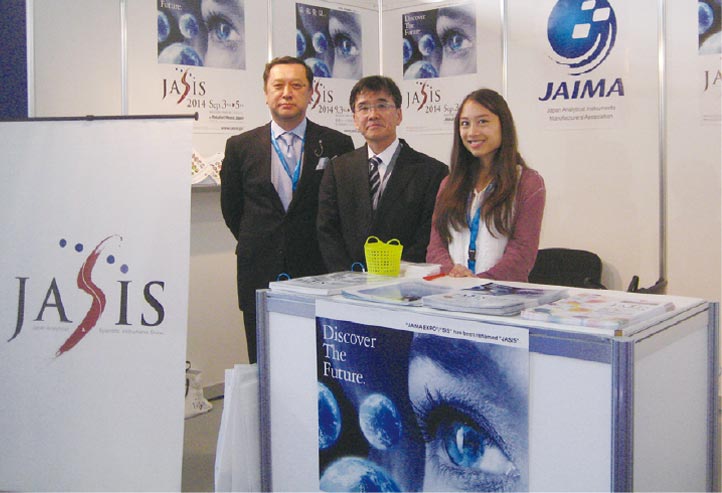 Dissemination of JAIMA Information for Overseas
In 2016, JAIMA held a webinar for British life science companies in cooperation with the British Embassy in Japan, and also held a webinar for Chinese companies with Instrument.com.cn, a Chinese portal site. In addition, in 2018 and 2019, we posted articles of the state of the Japanese analytical industry on Business Climate of IBO, a U.S. analytical instrument industry magazine, along with American and European organizations (ALDA and Eurom II).
In order to promote globalization of JASIS and to make it a hub exhibition in Asia, JASIS visits organizations related to analytical instruments in Asian countries and conducts invitation activities to increase the number of exhibitors and visitors from Asia. In addition, JAIMA had special offers to exhibitors who apply via MOU organizations to encourage overseas companies to participate in JASIS.
Exhibitions participated (extracted, after 2011)
| Exhibition | Year (Venue) | Activity |
| --- | --- | --- |
| Pittcon | 2011 (Atlanta), 2012 (Orlando), 2013 (Philadelphia), 2014 (Chicago), 2015 (New York), 2016 (Atlanta), 2017 (Chicago), 2018 (Orlando), 2019 (Philadelphia) | JAIMA booth, Japan Symposium, ALDA-JAIMA-Eurom II Meeting, Pittcon Committee Meeting, JAIMA Symposium (2017-) |
| BCEIA | 2011, 2013, 2015, 2017, 2019, (Beijing) | JAIMA booth, China-Japan Scientific Instruments Development Forum |
| analytica | 2012, 2014, 2016, 2018 (Munich) | JAIMA booth, ALSSA-JAIMA-EUROM II Meeting, Messe Munchen Meeting |
| TITRONICS | 2011, 2012, 2013, 2014 (Taipei) | ARTM (Asia Round Table Meeting, 2011), JASIS booth |
| ARABLAB | 2013, 2017, 2018 (Dubai) | JAIMA booth (2011), Research (2017), JAIMA booth and Japan Pavilion (2018) |
| analytica China | 2012, 2014, 2016, 2018 (Shanghai) | JAIMA booth, WebExpo PR (2018) |
| analytica Vietnam | 2013 (Ho Chi Minh), 2017 (Hanoi), 2019 (Ho Chi Minh) | JAIMA booth, Press Conference (2013) |
MOU Organizations
| Organization | Signed Date |
| --- | --- |
| TEEMA - Taiwan Electrical and Electronic Manufacturers' Association | 2005/8/31 |
| ALSSA (The Analytical & Life Science Systems Association), GAMBICA Association of the United Kingdom | 2006/8/30 |
| ALSSA, EUROM II | 2008/4/3 |
| ECMI ITE ASIA SDN BHD | 2016/4/15 |
| Pittcon | 2017/3/6 |
| TISTR - Thailand Institute of Scientific and Technological Research | 2018/8/3 |
| VINALAB - Vietnam Association of Testing Laboratories | 2020/11/2 |